Relocatable Modular Units, Custom Expanding Living Units, Multistory Disaster Housing Units
Custom Built Modular Housing
Connectivity is vital to being part of a worldwide community. AMSS's disaster relief solutions enable displaced families to move into temporary to permanent housing units and to regain connectivity to the world.
Multistory Disaster Relief Units
In response to New York City's need for a first-of-its-kind disaster housing program, AMSS developed a solution by creating modular apartments uniquely designed for the challenges of urban living. The AMSS solution is designed to be a humane, healthy, durable, sustainable, urban, rapidly deployable and economically sourced system. Our scheme utilizes well-established modular systems to construct detached or attached multistory urban townhouse types with fully accessible first floors. It can be configured as studios, one-, two-, and three-bedroom units according to how its components are combined.
From the Spring of 2017 thru the end of 2018, AMSS was responsible for the complete demolition and reconstruction of over 70 homes throughout Staten Island and Queens. We assembled a world class team of partners to pursue the largest modular residential construction project for the New York Build It Back program. Started in August 2017 the goal is to complete these projects in a nine month time frame. Utilizing the true advantages of modular technologies, we are running multiple construction activities in parallel – to include demolition, modular home fabrication, foundation installation, and modular home set and finish. By overlapping activities we are able to save a substantial amount of time.
Hurricane Sandy resulted in New York City being faced with a construction crisis – the need to demolish and rebuild thousands of homes. After spending enormous amounts of time and capital, New York City through one of its three primary Construction Management firms hired AMSS to evaluate over one hundred homes for the possibility of "flipping" these homes from a rebuilding effort to utilizing new modular construction techniques. In the Spring of 2017, AMSS toured Staten Island and Queens homes devastated by Hurricane Sandy. Evaluations and recommendations were made based on criteria such as crane accessibility, street staging for modules, utility line and tree interference issues, and proximity to adjacent structures.
AMSS presented a program that could save New York City time and costs by utilizing modular construction. Rather than spending time in a conventional sequential construction process, AMSS proposed running demolition and foundation construction on multiple sites concurrent with factory fabrication from multiple modular residential factories. This process would save substantial amounts of time, overhead and direct construction costs with the ultimate benefit of getting New York City residents back into their homes over the course of months as opposed to years. Various prototypical home designs and layouts would be developed to speed up the design process. Multiple modular factories would be used to spread out the demand for capacity while also enabling multiple factories to build concurrently.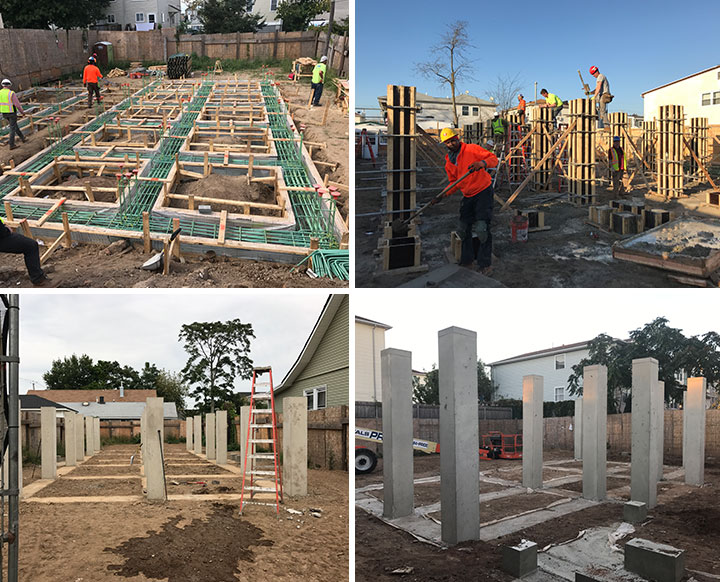 AMSS assembled a team of companies and individuals to demolish existing homes, build new foundations, design new homes, factory fabricate homes, and finally transport, set and finish over 70 homes in a nine month period of time. Company team members include Gans Design Studios, Russo Demolition, Bay Crane, and multiple modular home manufacturers from Pennsylvania. The AMSS team self performed and subcontracted portions of the +70 individual projects in order to meet an aggressive time frame.

We have the capability and historical track record to design, fabricate, transport, and field assemble a range of facilities.
get started today